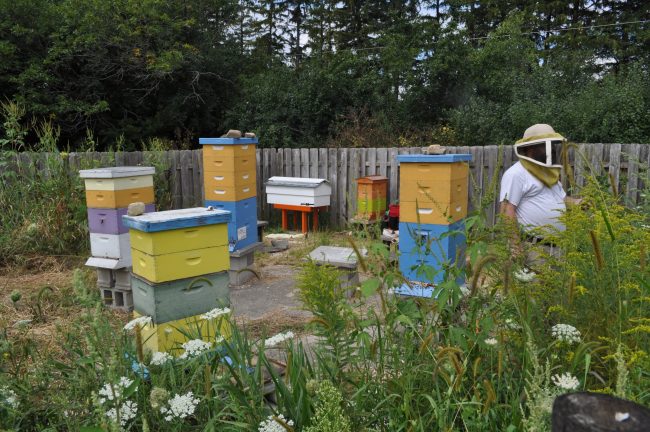 Enrollment is now open for our 2023 Beekeeping for Certification course! This intensive beekeeping course offered by the UW-Extension Milwaukee County Urban Agriculture Program is designed to equip beginning beekeepers with the knowledge, practice, and systems thinking skills required to successfully and sustainably manage honeybees in the Upper Midwest. The course runs from the middle of March through September. The overarching course theme will be "sustainable beekeeping in Wisconsin." This theme will be reflected in the techniques and approaches modeled by instructors, including rigorous research-based approaches to managing Varroa destructor, a serious pest of honeybees.
Four classroom lectures will cover essential background topics on ecology, honeybee biology, and management. Once the weather warms, students will practice beekeeping techniques over the course of 12 Saturday morning practical lessons in the UW Extension bee yard. Throughout the course, students will also engage with the science of bees and other pollinators as members of ecosystems, including discussions of insect decline, native insect species, and ways to support the presence of pollinators in urban landscapes. Classroom instruction begins on March 15th at the UW-Extension Milwaukee County office at 6737 W Washington St, West Allis, WI, 53214.
The course fee is $380 and does not include protective garments. Enrollment is limited– those interested are invited to send inquiries to Martin Ventura at mkventura@wisc.edu or sign-up through our online form by March 15.