Applying transformative education to connect citizens, community organizations and decision-makers for a stronger Milwaukee County. 
A statewide UW-Extension program area jointly funded by UW-Extension and Milwaukee County and backed by University of Wisconsin research, Milwaukee County Community Development partners with Milwaukee County citizens based on community-identified goals and priorities.
The Milwaukee County Community Development Educator brings and develops community education programs that support all Milwaukee County municipal departments and agencies, as well as county, regional, state, federal, and tribal government administrators and public officials; community and civic organizations/public agencies and volunteers; business/entrepreneurs; and industry leaders.
UW-Extension is open to regional engagement with civic/community/public stakeholders across southeast Wisconsin.
What UW-Extension Community Development Does
Strengths-based community educational approach, methods and tools used for the following areas of practice: using individual and group stories as program participation, program evaluation, and organizational, neighborhood and community marketing; group and community process facilitation;  strategic planning;  community charrettes;  resident and organizational leadership development and engagement in organizational and community change.
Referrals to our UW-Extension regional and statewide educational programs in energy/sustainability management and land use.
Providing referrals and support to select local economic programs and initiatives in entrepreneurship & local business development, workforce development, poverty eradication, and improving community/county quality of life.
Who We Are
Milwaukee County CNRED Educator
The Milwaukee County UW-Extension CNRED Program is led by Assistant Professor Dr. Angie Allen. Angie is both a local and national community program coordinator and community educator in city and neighborhood revitalization and the digital media arts. Angie's emphasizes a strengths-based approach in her programming, towards sustained community development centered on resident engagement, as well as resident and organization leader capacity building in community-institutional partnerships. 
Angie Allen, PhD 
CNRED Educator/Faculty
Milwaukee County Cooperative Extension
9501 W Watertown Plank Rd
Wauwatosa WI 53226
Office (direct): (414) 256-4630
Cell: (313) 318-8245
E-mail: angie.allen@wisc.edu
Milwaukee County UW-Extension Community Development Intern Program
We value the many opportunities that comes from community service. Since youth volunteer early and often in their education in community service, and adult community residents often seek more developmental opportunities to serve their community, we are developing a community internship program. This program will provide valuable skills and experience serving our Milwaukee County CNRED community partners and fellow educators across our program areas in our office to demonstrate the career opportunities in UW-Extension and in community development.
Past Interns
Milwaukee County Community Diversity Outreach Intern 
Eleanore Kukla was the 2015 SAAIP CNRED Intern working on community outreach, social media, and marketing materials for UW-Extension Milwaukee County. Eleanore is a graduate of the University of Wisconsin-Milwaukee's Zilber School of Public Health (Master of Public Health, May 2016), having studied Community and Behavioral Health Promotion. In her CNRED internship, she redesigned and updated this CNRED county webpage. 
Alice Pugh
From left to right: Dominician Center for Women Executive Director Sister Patricia Rogers; Alice; Milwaukee County CNRED Educator Angie Allen; former Amani United Neighborhood Association President and Amani resident Arlene Patterson, and; former Dominican Center for Women/Amani United Neighborhood Association resident p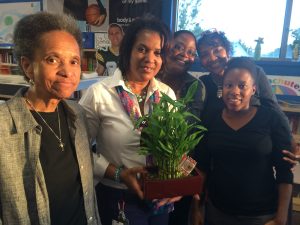 rogram coordinator Pepper Ray.
Alice Pugh is a former central city Milwaukee Amani neighborhood resident who wanted a more sustained way to share her professional skill set as a Milwaukee Public Schools teacher and educational management coordinator in service to her community. In partnership with the Dominican Center for Women, Milwaukee County CNRED applied for a regional UW-Extension available internal resource grant in spring 2014 and won the full grant award to hire Alice. Alice's service with the Amani neighborhood leaders supported their resident leadership development as their neighborhood association, Amani United Neighborhood Association, was being formalized as an organization. Alice continues to serve the Amani neighborhood in various ways, and the greater Milwaukee community.