What is it?  
The Wisconsin Emerging Farmer Program is rooted in a mission to assist beginning farmers to be economically viable, socially & culturally fruitful, and environmentally sustainable.
We empower emerging farmers in the region by facilitating land access, coordinating educational workshops, building community resource networks, and providing technical resources for selling product. Participants – or "micro-farmers" – learn sustainable methods to increase their food production while cultivating buyer relationships with partnered Milwaukee restaurants, markets, and food co-ops.
Want to learn more? Contact Ryan Schone 414-615-0537  or  ryan.schone@ces.uwex.edu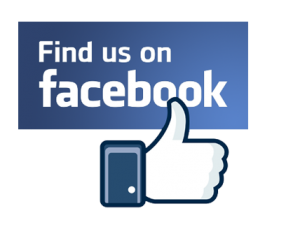 facebook.com/uwex.gardens.farm
In the 2014 season, (14) farmers participated in the emerging farmer program; the participants comprised 4 different racial backgrounds with ages ranging from 23 to 62. (half of participants were 23 – 39) Embracing this diversity of cultures and farming experiences,  "micro-farmers" gather on a monthly basis for an educational workshop led by an expert and followed up with a meal and collaborative conversation.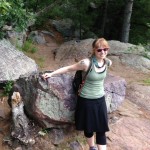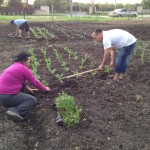 Click here to Meet the 2014 Emerging Farmers!
—
Can Beginning Farmers be Economically Viable in Milwaukee?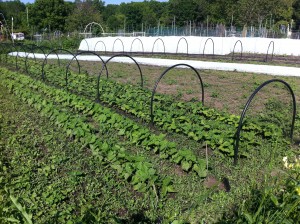 Despite all the hype and culture based around "local food" in Wisconsin and elsewhere across the nation, many of the numbers supporting the profit of small-scale local growers are, at best, disenchanting.
The Good News for Local Food…
The Emerging Farmer Program aims to help emerging farmers meet the growing demand for locally sourced food utilizing approaches which are economically viable. Participants can expect to learn collaboratively with other micro-farmers while cultivating selling relationships with program partners such as Braise RSA and the Riverwest Co-op.
Where are the farm sites?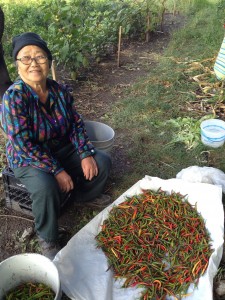 Emerging farmers are presently located at 5 sites in Milwaukee County:
Green Corridor Gardens (6th St and Howard Ave, Milwaukee)
Kohl Farm (8300 County Line Rd, Milwaukee)
Pete's Community Farm (Muskego Ave and Arrow St.)
Firefly Ridge (10256 Underwood Parkway, Wauwatosa)
Timmerman Field Gardens  (9200 Appleton Avenue,  Milwaukee)
The Wisconsin Emerging Farmer Program builds upon the historic framework of UW- Extension's historic Shoots n' Roots, a program which educated small scale vegetable growers in Milwaukee, using research-based organic practices and results from the Organic Learning Center MicroFarm project. Participants further this interactive learning model by managing their own micro-farm (1/8 acre — 1.5 acres) while participating in monthly community-oriented workshops aimed to increase their food production and revenue. A community approach is emphasized for farmers to embrace collaboration and to share best practices and lessons learned.
Emerging Farmer Program in the News: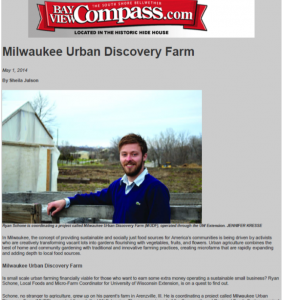 The Milwaukee Neighborhood News Service

Vegetable Publications and Research