HAVE EBT? Get FREE fruits & vegetables with MILWAUKEE MARKET MATCH!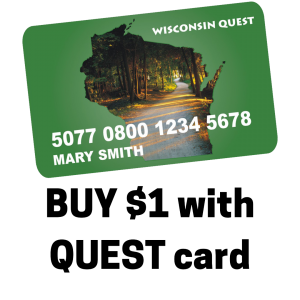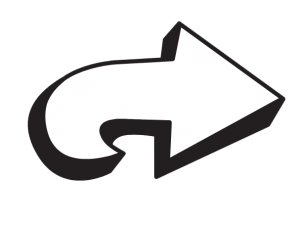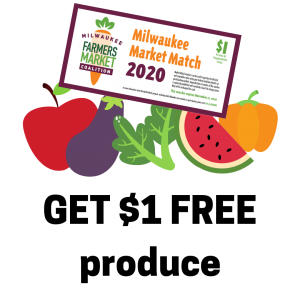 Up to $20 per person per day. When you use your QUEST card at the market, you will receive tokens and additional coupons for free fruits and veggies up to $20. That means you'll receive $40 to spend at the market when you withdraw only $20 from your account! Milwaukee Market Match vouchers expire on November 21, 2020. Visit the farmers market booth for more information.
Milwaukee Market Match is available at the following locations:
Milwaukee Market Match is made possible by sponsorship from the Greater Milwaukee Foundation. Please share with your networks and community with our downloadable program flyer!
Use your FoodShare benefits at the farmers market!
¡Aproveche sus beneficios FoodShare en el mercado de agricultores!
Siv koj cov nyiaj muas noj rau tom khw tshav puam!
Farmers markets that accept FoodShare (SNAP/EBT/QUEST) and WIC and Senior Farmers Market Nutrition Program vouchers in Milwaukee County for the 2020 season listed in the map below. Every market that accepts FoodShare in Milwaukee County doubles your bucks, meaning more market-fresh items for you and your family at no extra cost.
The 2020 list of markets that accept SNAP, WIC, and Senior Farmers Market Nutrition Program vouchers in digital PDF format is now available. Use the printable tri-fold brochure version of the 2020 market list to print your own copies of this year's list. If you would like printed copies of this resource to distribute, please contact Meg at meg.kilkenny@wisc.edu. Thank you to the amazing staff at Hunger Task Force for their partnership in making our 2020 list brochure available to our community!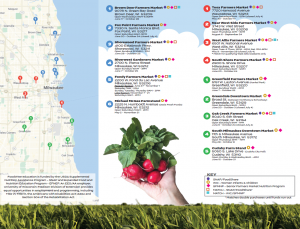 How to use your QUEST card at the farmers market:
Cómo usar su tarjeta QUEST en el mercado de agricultores:
Yuav siv li cas koj daim ntawv roj hmab QUEST card no pem khw tshav puam: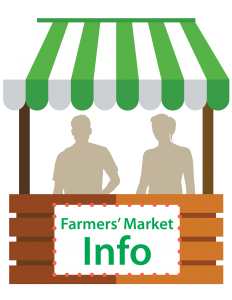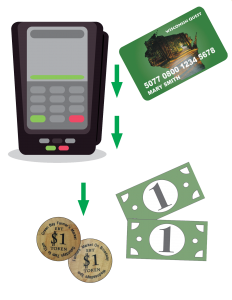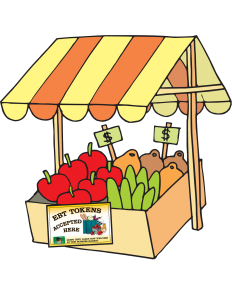 What you can buy with your QUEST (EBT) card at a farmers market: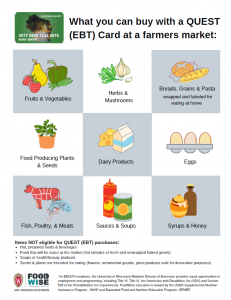 Click on image above to open PDF resource.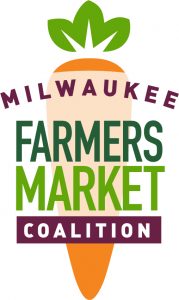 The main goal of the Milwaukee Farmers Market Coalition (MFMC) is to increase access to, and utilization of, farmers markets by building capacity to serve low-income consumers and by attracting a diverse clientele with the long-term impact of increasing produce intake within Milwaukee area communities by convening interested FMs along with healthcare, governmental, non-profit, citizens, and other partners.
Our next Zoom meeting is scheduled to take place next week on Thursday, November 19th from 4 – 5:30 PM. REGISTRATION IS REQUIRED IN ADVANCE! You can register by clicking this link: https://uwmadison.zoom.us/meeting/register/tJUpf–gqD4rG9ZV5ksq7DhBc7jRxko-82cx
After registering, you will receive a confirmation email containing information about joining the meeting, including how to join via computer or via phone.
If you are interested in joining our discussion about Milwaukee County markets during COVID-19, but are unsure whether or not you can attend, please still register in advance for the meeting
If you have questions about your market's SNAP/EBT program or how to safely operate during COVID-19 before our next meeting, please email Meg at meg.kilkenny@wisc.edu.
The Milwaukee Farmers Market Coalition works to build capacity to serve all shoppers in Milwaukee, shoppers that represent the diversity of our Milwaukee community. As facilitators of this coalition, we want to recognize that as white leaders we do not represent that diversity. Please read our June newsletter which includes our statement and commitment to racial equity work in continuing to make farmers markets accessible to all Milwaukeeans.
For more information about the coalition, visit the Fondy Food Center website.
Stay up to date on farmers market-related news, Coalition meeting notifications, and more by signing up for our newsletter! Click HERE to sign up.