Use your FoodShare benefits at the farmers market!
¡Aproveche sus beneficios FoodShare en el mercado de agricultores!
Siv koj cov nyiaj muas noj rau tom khw tshav puam!
Stay tuned for an updated map for the 2020 season. Our annual list of markets that accept EBT benefits will be released around June!
Need FoodShare?
To register online, set up an account with Access at access.wisconsin.gov/access/, click Apply now or Log In (if you have an existing account) and follow the prompts.
To register by phone, call (888) 947-6583 Monday through Friday, between 8 a.m. and 4:30 p.m.
Applications can also be mailed to:

MDPU
PO Box 05676
Milwaukee WI 53205

Fax: 1-888-409-1979
How to use your QUEST card at the farmers market:
Cómo usar su tarjeta QUEST en el mercado de agricultores:
Yuav siv li cas koj daim ntawv roj hmab QUEST card no pem khw tshav puam: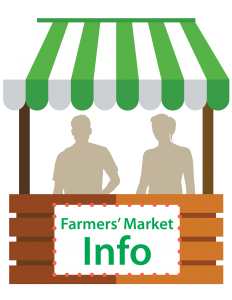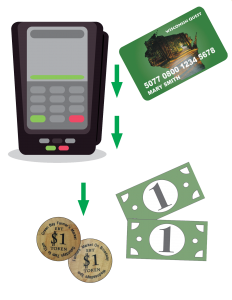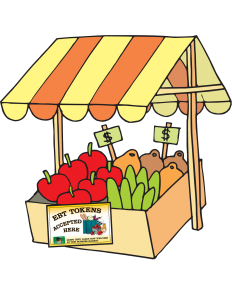 What you can buy with your QUEST (EBT) card at a farmers market: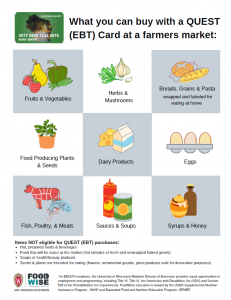 Click on image above to open PDF resource.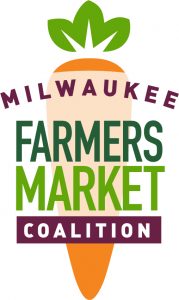 The main goal of the Milwaukee Farmers Market Coalition (MFMC) is to increase access to, and utilization of, farmers markets by building capacity to serve low income consumers and by attracting diverse clientele with the long-term impact of increasing produce intake within Milwaukee area communities by convening interested FMs along with healthcare, governmental, non-profit, citizens, and other partners.
Our next coalition meeting is June 4, 2020 from 4 – 5:30 PM and will take place remotely via Zoom in accordance with Wisconsin's Safer at Home Order. We will be discussing how markets can safely operate during COVID-19 as an essential service. Check out the coalition's latest newsletters for resources and more info: 4/21 newsletter | 5/13 newsletter | 5/26 newsletter. Subscribe to our newsletter here.
To register for this meeting, please click on this link: https://uwextension.zoom.us/meeting/register/tJAocO-srTkrGdVvce-LRiyXusXI8QKymLzJ
After registering, you will receive a confirmation email containing information about joining the meeting, including how to join via computer or via phone. If you are new to Zoom and plan to use your computer to connect, please log on 5 minutes early if you are able to be sure you have the proper program downloaded to your computer in order to connect.
Questions? Send Meg an email: meg.kilkenny@wisc.edu.
For more information about the coalition, visit Fondy Food Center.
Stay up to date on farmers market related news, Coalition meeting notifications, and more by signing up for our newsletter! Click HERE to sign up.